Professional Waterproofing Service:
Waterproofing Service For Your Home And Office!
Reliable courteous service at affordable and competitive prices!
Exterior Waterproofing Specialist.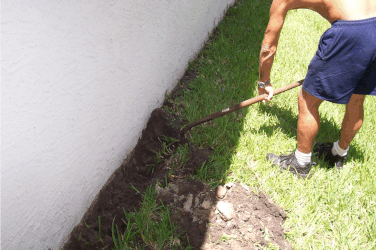 Foundation Waterproofing:
Waterproofing of exterior surfaces to protect the interior surfaces from water intrusion that could lead to internal damage and possible mold growth. An application of effective waterproof coatings to foundation footer will provide a moisture barrier to stop moisture and water infiltration.
A water tight coating is applied on the exterior wall from base of footer to up above the soil line, greatly reducing the effects of water saturated soil and standing water next to the wall of your home.
Dirt and Grass is removed to expose the footer
Thoroughly pressure clean exposed footer and wall
Several coats of waterproofing are applied to footer and exposed wall.
The wall is then repainted to match the existing wall
The grass is then rolled back and all holes filled
We are punctional and have an extensive knowledge of waterproofing, exterior cleaning and painting industry and do very meticulous, methodical cleaning and painting service. We are very careful to take our time to give you the best quality service available.